MATERIAL HANDLING TECHNICIAN/FORKLIFT  MECHANIC Greensboro, NC. Temp to Hire 120 days Pay: $25- $32 Shift:  1st Shift: Mon-Fri 6:00am  -  2:30 pm Differential: No shift differential until hired directly by client.Technician Sign-on Bonus of $5,000 is paid out in 2 installments$2500 (grossed up) 1st paycheck after 30 days of employment paid by client after conversion to direct$2500- 1st paycheck after 12 mos of employment  paid by client after conversion to direct Also to help streamline the process the location hiring manager will be the best point of contact. For each location, Launch is working with. Once the candidate is 30 days away from completing the 90 day agreement, that is the best time to get Shaquell involved. So we can start the transition to NFI and make it a quick and seamless process.Requirements: - Previous experience as a diesel mechanic - Tools - Must pass BG, DT and MVR.  **Non DOT drug test for non CDL holders & DOT drug test for CDL holders***Job Summary: Under the direct supervision of the Shop Supervisor or Lead Technician this role is responsible for performing periodic maintenance, repair, replacement and troubleshooting on various models of material handling equipment. Must be proficient with data input or paper work that is required to perform all job requirements. Maintain service and support material handling equipment at the internal customer location in a timely and cost-effective manner so that customer requirements are met.Essential Duties & Responsibilities:  	Repair, or replace major system components, including circuit boards and other electrical parts, hydraulic, mechanical, L.P. systems, power steering and transmissions, engines with limited supervision.Brand and Types`: Electric, Propane, Diesel. Uni-carrier, Crown, Rhino, Toyota, others.Perform- PM and Batteries ,Hydraulic.	Troubleshoot and diagnose most material handling equipment components.	Perform engine tune-ups on most makes of equipment without supervision.	Perform proper PM's in a timely manner.	Be able to troubleshoot and diagnose most complex electrical systems on IC and electric trucks.	Perform and maintain proper battery maintenance on electric equipment.	Be able to use and maintain all specialty trade tools properly. 	Operate service van in a clean, safe and secure manner following all required safety rules for the job.	Follows all safety procedures in performing work as well as company policies and any other safety procedures necessary to complete work assignments safely.	Demonstrates exceptional customer service skills.	Properly identify and order all necessary replacement parts.	Driving is an essential function of this position and a valid current driver's license must be maintained at all times.	Work with all departments and employees to insure quality of customer service.	Report all accidents, injuries, safety violations and unsafe working conditions immediately.	Account for all parts, materials, tools and consumables used as required.Requirements:	High school diploma, G.E.D. or tech school graduate preferred	Minimum two years of experience in repair and maintenance on material handling equipment. 	Read and understand electrical and hydraulic system schematics	Ability to lift up to 50 pounds with our without reasonable assistance	Must be capable of becoming certified to operate equipment.	Must be willing and able to frequently push, pull, kneel, bend and reach.	Keep an adequate set of personal tools as required.	Valid Driver License	Customer Service Skills and abilities.	Basic Computer knowledge including Microsoft Office (Word, Excel)
Diesel Mechanic
TransTechs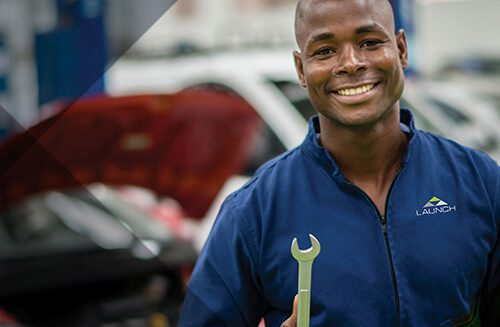 LAUNCH TransTechs is the leading provider of Diesel Technicians across the nation. We work with top clients managing large fleets in a variety of industries – from waste management and city fleets to school buses, transportation and logistics companies and even airlines (think about all those vehicles on the tarmac besides the airplanes).
LAUNCH offers you access to a wide range of mechanic jobs. Based on your skills and experience, you can find jobs at LAUNCH for Diesel Technicians, Truck Technicians, Trailer or Tractor Technicians, School Bus Mechanics, Ground Service Equipment (GSE) Mechanics, MHE Technicians and Service Techs.
With jobs open in over 400 sites across the country, we learn your preferences for job type, skill level and location and find the perfect match for you. You can grow your experience and advance your skills along the way. Ready to take the next step? Apply today!