LAUNCH TEAMS is an industry leading modification and repair team comprised of all aircraft skill sets who are high-level performers working together as one team.
LAUNCH TEAMS is ideal for routine or non-routine maintenance and modification programs and AOG situations. LAUNCH TEAMS combines accomplished leadership with industry-relevant intelligence and expert teams for project-based solutions for Avionics, Structures and Interiors. Coupled with our Part 145 Repair Station certificate, LAUNCH TEAMS is a full-service solution. We utilize a flexible pricing model and can offer fixed-rate, daily-rate or a blended rate for your project. For your nose-to-tail and fleet modification programs, LAUNCH will provide you with seamless service to complete your projects on time, under budget and without quality escapes.
LAUNCH Teams services and projects include: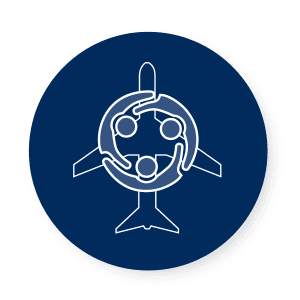 48-hour satellite Wi-Fi system installations
In-flight entertainment systems
Flightdeck flat panel conversions
ADS-B modifications
Interior re-configurations
Cargo door conversions
Entry into service modifications
Heavy structure modifications
Complex avionics and electrical modifications
Large component replacements (engines, landing gear, flight controls)
Why Choose LAUNCH TEAMS?
Industry leading turn-around time on your projects
Highly experienced leadership, including leads and supervisors
Control your budget
Integrated team approach
Certified and trained on all commercial aircraft platforms