LAUNCH TEAMS is an industry leading modification and repair team comprised of all aircraft skill sets who are high-level performers working together as one team.
LAUNCH TEAMS is ideal for routine or non-routine maintenance and modification programs and AOG situations. LAUNCH TEAMS combines accomplished leadership with industry-relevant intelligence and expert teams for project-based solutions for Avionics, Structures and Interiors. Coupled with our Part 145 Repair Station certificate, LAUNCH TEAMS is a full-service solution. We utilize a flexible pricing model and can offer fixed-rate, daily-rate or a blended rate for your project. For your nose-to-tail and fleet modification programs, LAUNCH will provide you with seamless service to complete your projects on time, under budget and without quality escapes.
LAUNCH Teams services and projects include: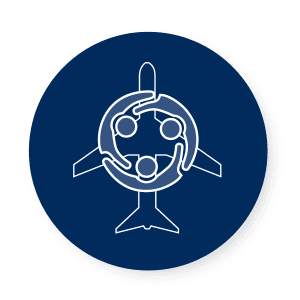 Avionics Repair & Modifications
Structural Repair & Modifications
Interior Repair & Modifications
Maintenance Visits
48 Hour Satellite-Based Wi-Fi Installs
Longeron Repairs
Pickle Fork Replacements
Pressure Bulkhead Repairs
Wing Spar Repairs
In-Flight Entertainment Systems
Nitrogen Generating Systems
ADS-B Mods and DOD Mode 5
Interior LOPA Retrofits and Reconfigurations
STC Service Bulletin Coordination
Boeing 737 Max Storage Program
Supplier Recovery Program
ISS Flat Panel Displays
Domestic & Overseas AOG Projects
Why Choose LAUNCH TEAMS?
Industry leading turn-around time on your projects
Highly experienced leadership, including leads and supervisors
Control your budget
Integrated team approach
Certified and trained on all commercial aircraft platforms