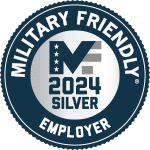 Oak Brook, IL, November 11, 2023
– Today, LAUNCH Technical Workforce Solutions announced it has received the 2024 Silver Military Friendly® Employer designation, marking the eighth year in a row the company has earned this designation. Institutions earning the Military Friendly® Employer designation were evaluated using both public data sources and responses from a proprietary survey. Over twelve hundred companies participated in the 2024 Military Friendly® survey.
Mike Reporto, LAUNCH Chief Commercial Officer, commented, "We are honored to receive this designation for the eighth year in a row. Through our Working Heroes program, LAUNCH is dedicated to hiring veterans and those transitioning out of active duty from the military. The leadership experience, strong discipline and proven work ethic shown by our nation's veterans are key qualities that make them stand out to our clients. We are investing more widely in growing this program and our commitment to providing more jobs for veterans."
Methodology, criteria, and weightings were determined by VIQTORY with input from the Military Friendly® Advisory Council of independent leaders in the military recruitment community. Final ratings were determined by combining an organization's survey score with an assessment of the organization's ability to meet thresholds for Recruitment, New Hire Retention, Employee Turnover, and Promotion & Advancement of veterans and military employees.
"Organizations earning the Military Friendly Employers designation the have wholeheartedly invested in comprehensive and impactful initiatives that bring about positive, life-changing results for our valued service members, dedicated military spouses, and esteemed veterans within their ranks, We salute these exemplary employers who raise the bar and understand that hiring military personnel is not merely an act of goodwill but a testament to a standard that truly embodies sound business wisdom. Their steadfast commitment to integrating military personnel into their workforce not only reflects their compassion but also underscores their business acumen," – Kayla Lopez, Senior Director of Military Partnerships at Military Friendly®
LAUNCH will be showcased along with other 2024 Military Friendly® Employers in the Winter issue of G.I. Jobs ® magazine and on MilitaryFriendly.com.
About LAUNCH
LAUNCH is the premier source for technical workforce solutions and is transforming how aviation, manufacturing and ground transportation companies build and expand their workforces. More than just providing labor solutions, LAUNCH TEAMS, operating under our Part 145 Repair Station Certificate, combines accomplished leadership with expert technicians for project-based solutions to execute your maintenance and modification programs. Our commitment to strong alliances has helped us develop a pipeline of mechanics for today and the future of aviation maintenance.
We lead. We partner. We care.
We are LAUNCH, supporting teams and clients in 400+ locations worldwide.
To learn more about LAUNCH, visit www.launchtws.com.
About Military Friendly® Employers
Military Friendly® is the standard that measures an organization's commitment, effort, and success in creating sustainable and meaningful benefits for the military community. Over 1,700 organizations compete annually for Military Friendly® designation. Military Friendly® ratings are owned by Viqtory, Inc., a service-disabled, veteran-owned small business. Viqtory is not affiliated with or endorsed by the U.S. Department of Defense or the federal government. Results are produced via a rules-based algorithm. The data-driven Military Friendly® lists and methodology can be found at
https://www.militaryfriendly.com/mfcguide
About VIQTORY
Founded in 2001, VIQTORY is a service disabled, veteran owned small business (SDVOSB) that connects the military community to civilian employment, educational and entrepreneurial opportunities through its owned assets such as Military Spouse Magazine®, G.I. Jobs ® and Military Friendly ® brands. VIQTORY and its brands are not a part of or endorsed by the U.S. Dept of Defense or any federal government entity. Learn more about VIQTORY at www.Viqtory.com.
###