Oak Brook, IL, June 1, 2023 – Today, LAUNCH Technical Workforce Solutions, LLC unveiled and celebrated the adoption of its first classroom at the Aviation Institute of Maintenance Dallas campus. Through their nationwide network of campuses, the Aviation Institute of Maintenance has become well-known for providing high quality, hands-on training to students through their aviation maintenance programs.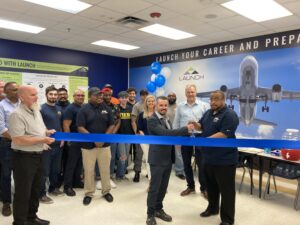 LAUNCH and AIM formalized their partnership in 2021 (https://www.launchtws.com/launch-and-aviation-institute-of-maintenance-announce-partnership/) and have since worked on a series of initiatives to connect newly trained aircraft technicians with LAUNCH clients who are hiring – in Dallas and across the nation.
Mike Reporto, LAUNCH Chief Commercial Officer, commented, "We are excited to be adopting a classroom at the AIM campus in Dallas. AIM is an important partner for LAUNCH as we work to develop the aircraft technician pipeline for our clients throughout Texas and the rest of the country. We have built strong relationships with many local clients in the DFW area and know the students coming out of AIM will be a continuing source of talent for them as they hire. We thank AIM for their partnership, and we're thrilled to see a LAUNCH classroom at the school."
Chris Coley, Campus Executive Director at AIM's Dallas Campus commented, "We are excited to have our employer partners ingrained in the fabric of our institution as we train tomorrow's aviation maintenance professionals. The adopted classrooms allow us to connect our employer partners with the future workforce. We are excited to have LAUNCH participate in this initiative as we strive to support our aviation employers in the Dallas Ft. Worth area and beyond."
LAUNCH is dedicated to helping new students find rewarding jobs in aviation maintenance. They work with clients to develop programs for new graduates to gain experience working with leading maintenance facilities upon graduation. To learn more about this effort, visit https://www.launchtws.com/launch-academy/.
To learn more about the AIM Dallas campus, visit https://aviationmaintenance.edu/campuses/dallas-tx/.
About LAUNCH
LAUNCH is the premier source for technical workforce solutions and is transforming how aviation, manufacturing and ground transportation companies build and expand their workforces. More than just providing labor solutions, LAUNCH TEAMS, operating under our Part 145 Repair Station Certificate, combines accomplished leadership with expert technicians for project-based solutions to execute your maintenance and modification programs. Our commitment to strong alliances has helped us develop a pipeline of mechanics for today and the future of aviation maintenance.
We lead. We partner. We care.
We are LAUNCH, supporting teams and clients in 400+ locations worldwide.
To learn more about LAUNCH, visit www.launchtws.com.
About Aviation Institute of Maintenance (AIM)
AIM is part of a successful group of companies, which first began in Norfolk, Virginia, in 1969 and has grown to become a network of AIM campuses across the nation. We have maintained a tradition of excellence in education and workforce development throughout the expansion over more than four decades. AIM is well-known for providing high quality, hands-on training to our students in Aviation Maintenance programs. But as time went on, we saw other industry leaders demanding similar skills our aviation students have after graduating. To fill that need, we went beyond aviation to develop related industry technician programs.
To learn more about AIM, visit www.aviationmaintenance.edu.
###