LAUNCH Career Advancement Program
Now Hiring in Wilmington!
If you're getting ready to graduate from Aviation Maintenance school, LAUNCH may have a job for you!
We offer newly trained aircraft mechanics the chance to work with the best Maintenance, Repair and Overhaul (MRO) facilities in the industry. LAUNCH has partnered with our MRO clients to provide these positions to aircraft mechanic students and help you gain valuable experience working in a top aircraft maintenance facility.
Once approved, you'll be part of the LAUNCH Career Advancement Program (LCAP) to provide you with the basic skills to be successful as you get started in your career as an aviation mechanic. The LCAP program will include computer based and on-the-job training, mentorship, and a clear pay progression plan.
Our goal is to help you advance your skills, succeed with our MRO client as a contract employee and move into a full-time, direct position at the end of the program.

Through LCAP, you'll have a clear path towards:

Progressively Higher Pay Rates

Increased Skills and Experience

Direct Employment with Greater Benefits
LAUNCH Career Advancement Program Progression
Below is an outline of the timeline for advancing through the program. You'll have an opportunity to earn higher pay at each step, working towards a direct position with our client after six – nine months.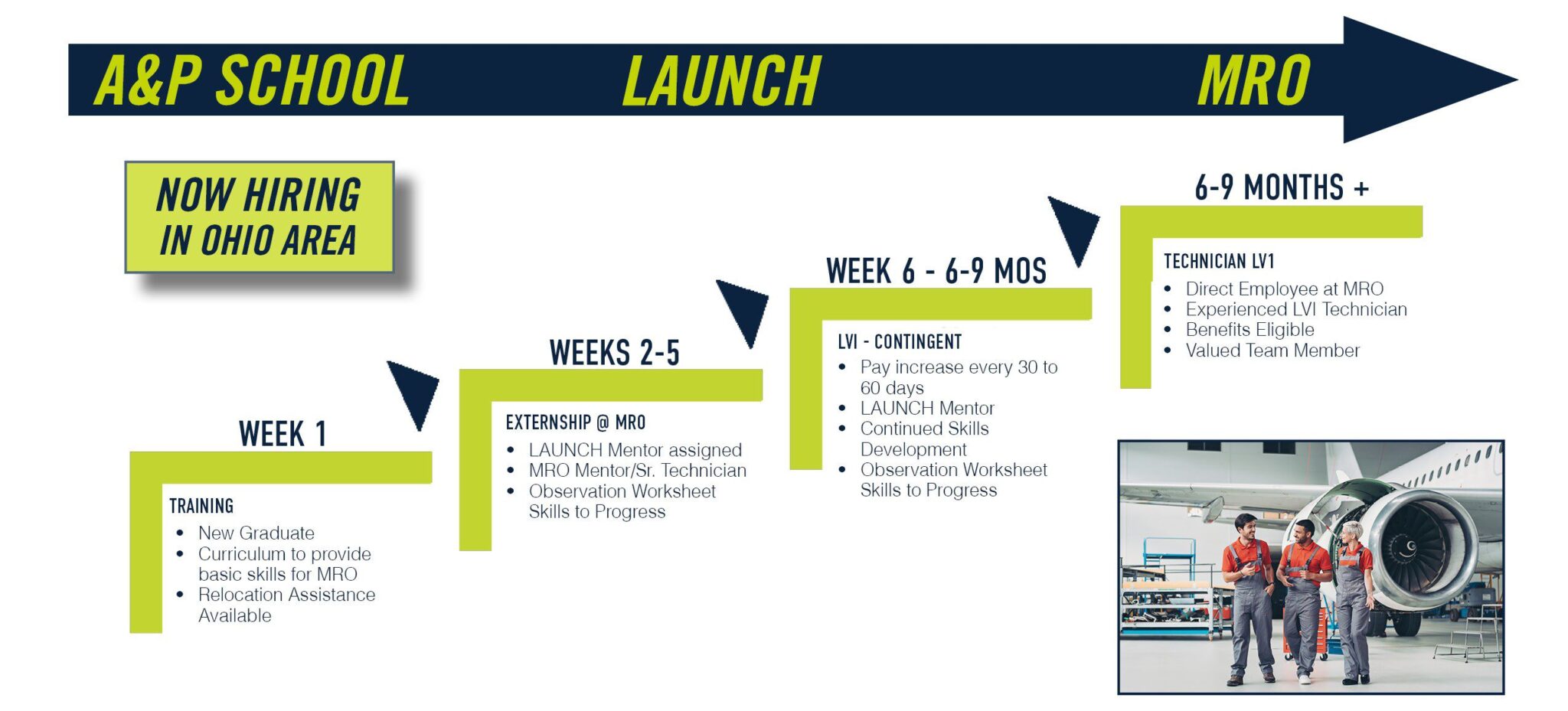 Pay Rates and Progression Plan
A&P Mechanic Interns
The chart here shows the pay progression for A&P Mechanic Interns in their first six months through direct employment with the client.

Machinist
This chart provides an example of the pay progression for Machinists in their first 6-month training period:

Benefits of Advancing to Direct Employment
Once you've completed the program and are selected for long-term employment with our client, you'll transition to work directly for them. LAUNCH is committed to your success, and we want you to continue to grow your career. As a full-time employee of our client in Wilmington, you'll enjoy these exciting benefits:
Annual Performance Appraisal
Profit Participation Program
401k Plan
Medical, Dental and Vision Insurance
Company Paid AD&D
Voluntary AD&D
Short & Long Term Disability
FMLA
Company Paid Life Insurance
Plus, you'll accrue vacation time through an excellent Paid Time Off Program:
Ready to join the LCAP program and start your career in aviation maintenance? Now is the time to GO with LAUNCH!