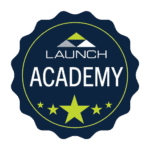 January 11, 2023 – Today, LAUNCH Technical Workforce Solutions, LLC formally introduced LAUNCH Academy. Through LAUNCH Academy, the company has partnered with a variety of organizations and created specialized programs – all aimed to address the national shortage of skilled aircraft mechanics. LAUNCH's commitment to innovative programs and strong alliances is developing a pipeline of mechanics for today and the future of aviation maintenance.
The aviation industry, like many others, is facing a severe shortage of skilled aircraft mechanics. New mechanics entering the field from aviation training schools or the military are ready to join the workforce to fill the void, but typically do not possess the skills and experience required by most MROs, OEMs, and airlines. LAUNCH is partnering with specific clients and many of the nation's aviation training schools to bridge that gap and prepare new A&P Mechanics for industry.
Mike Reporto, LAUNCH President of Staffing, commented, "We developed LAUNCH Academy to assist our clients who have been struggling to hire with the current shortage of experienced aviation technicians. But even more importantly, LAUNCH Academy goes further to address their long-term needs for developing their future direct workforce pipeline. Our industry is struggling to hire, and we are bridging the gap between newly trained mechanics and the top employers seeking qualified candidates."
Mike Guagenti, LAUNCH CEO, added, "We are excited about bringing LAUNCH Academy to our clients and our employees. Our clients have seen huge success with our LAUNCH Career Advancement Program and our LAUNCH Global Access program – both a part of LAUNCH Academy. The technicians we have hired through these programs have watched their careers soar and we are just getting started. I can't wait to see where these programs take us over the next few years."
Through LAUNCH Academy, the company formed alliances with a variety of educational partners to develop on the job training for new graduates, supplemental courses for those wishing to further their skills and specific curricula for military service members transitioning into civilian employment.
To learn more about LAUNCH Academy, please visit https://www.launchtws.com/launch-academy/.
About LAUNCH
LAUNCH is the premier source for technical workforce solutions and is transforming how aviation, manufacturing and ground transportation companies build and expand their workforces. More than just providing labor solutions, LAUNCH TEAMS, operating under our Part 145 Repair Station Certificate, combines accomplished leadership with expert technicians for project-based solutions to execute your maintenance and modification programs. Our commitment to strong alliances has helped us develop a pipeline of mechanics for today and the future of aviation maintenance.
We lead. We partner. We care.
We are LAUNCH, supporting teams and clients in 400+ locations worldwide.
To learn more about LAUNCH, visit www.launchtws.com.
###